Commercial Painting – Richardson, TX
Set Your Business Up for Success
Whether your customers come to your commercial space or just your employees, it is important to have an environment conducive to success. Having a clean, well-chosen color of paint on the walls can promote creativity, soothe and comfort, or be fun and inviting, and at Platinum Painting, we're happy to help you and your business create the perfect space. If you would like to learn more about our commercial painting services, contact the Platinum Painting of Richardson team, and we'll send our estimator to your location for a free quote.
Why Choose Us?
Insured
Local Professionals
Free In-Person Estimate
What We Paint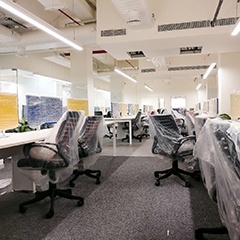 Commercial spaces range in size from a small retail shop to several buildings, and Platinum Painting is prepared to tackle these painting projects. Here are some examples of the types of commercial painting we do:
Apartment buildings
Religious buildings
Hotels
Office buildings
Shopping centers or strip malls
Interior and exteriors
And much more!
How Our Painting Process Works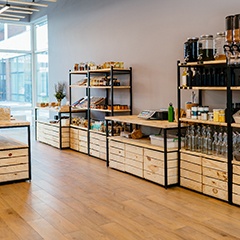 Like any other project we do, the process always begins with one of our estimators coming to the site. They will take measurements, look at the scope of the work, and give you an accurate estimate. Then, we can schedule our team to come back and make your vision a reality, at which point, we'll follow these main steps:
Project setup: We can remove décor from the walls and either move or cover furniture. If there is anything particularly valuable, we ask that you take care of it in advance. Before we paint, we will also inspect and clean the walls as well as caulk or sand wherever it's needed to give us a great surface to work with.
Painting: Although we can use your preferred brand if you have one, we usually go with Sherwin Williams' interior and exterior paints because of its quality.
Cleanup: Unlike some other contractors, we don't leave you with a mess to pick up once we're done. We take away any trace of our team—except the beautiful paint, of course!
Final inspection: Before we are officially done, we will walk you through the project and make sure you are happy with our work. If you find anything that doesn't meet your expectations during this final inspection, we will correct it right away. Only when we get your approval and satisfaction will our work be finished.
Color Consultation Available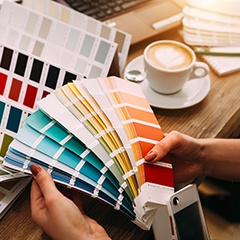 Deciding the color(s) of paint can be a significant, difficult task, but you don't have to do it alone. When you work with Platinum Painting, we can set you up with a color consultant who can assist, offering expert advice on color and design trends and making the choice easier. With this help, you'll love the results before they're up on the walls!