House Painting – Richardson, TX
Spice Up Your Home to Reflect Your Taste in Design
Is the paint that's currently on the walls in your home the same paint that was there when you bought it? A fresh coat of paint can truly transform your house into a home and make it reflect your style and taste. Not only is painting a cost-effective way to add a little bit of your personality into a space, but it can also make it feel newer and cleaner. Whether you have a huge estate, small condo, or a family home, our team at Platinum Painting of Richardson is here to help. Just contact our office today to schedule a free in-home estimate for house painting in Richardson, TX!
Why Choose Us:
Based in Richardson
Insured
Satisfaction Guarantee
Serving All of North Texas
Why Should You Paint Your Home?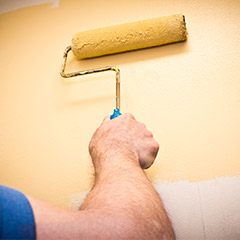 There are countless reasons why homeowners that contact us are looking to repaint their homes. Besides personal preference in colors and a variety of other reasons you may want to paint your home, you can also enjoy several valuable and tangible benefits by investing in this change:
Make Affordable & Cost-Effective Changes – If you want to make a noticeable change to your house but don't want to have to spend thousands of dollars on renovations that require construction, painting your home is the perfect option. It allows you to modernize and revitalize a space while staying in-budget.
Protect Your House – The exterior of your home is affected day-in and day-out by snow, rain, hail, and direct sunlight. A coat of high-quality exterior paint can help your house withstand this wear-and-tear over time.
Boost Your Home's Value – It's no surprise that a fresh coat of paint can boost your home's curbside appeal and resale value. Countless studies have found that clean, attractive interior and exterior paint helps a home sell faster.
Give Your Home a Cleaner Appearance – Putting a fresh coat of paint inside your home can help the surfaces last longer, look cleaner, and breathe new life into a space.
The Benefits of Professional Painters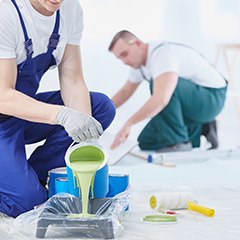 Many homeowners may be tempted to tackle repainting their house on their own, but what they don't realize is in order to get the best results, there's a ton of knowledge, preparation, and planning that should be involved. With a professional and trusted company like Platinum Painting of Richardson, you can make sure that you achieve the vision in your head. Here are a few reasons why homeowners turn to us when they need to repaint their homes:
We stay up-to-date with the latest techniques, practices, and materials in our industry to ensure that we're always providing the highest quality of results on every project.
We're dedicated to staying safe on the job.
We use and recommend high-quality, trusted paint brands and treat every home as if it were our own.
We offer a variety of home-improvement services.
You don't have to worry about cleanup. By the time our job is complete, you'll have a fresh-feeling, updated, and clean home.
In-Depth Painting Services From One Trustworthy Company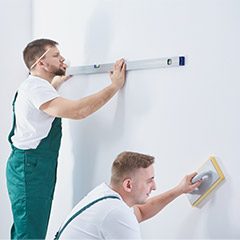 At Platinum Painting, we solely paint residential homes, which truly makes us experts in our field. Every day, we work closely with homeowners to help them get the results they want in a reasonable timespan. Many of our customers in the DFW and Richardson area choose us because we offer a variety of improvement services in one place, so no matter what they need done, they can trust that we'll deliver amazing results.
In addition to delivering service that's focused on being stress-free, we make sure that every project we're apart of meets the homeowner's standards. That's why we recommend the highest quality of supplies and paint, including top-tier Sherwin Williams paints and primers. To schedule a free in-home estimate, we welcome you to call our office today.