Popcorn Removal – Richardson, TX
Remove Outdated Popcorn Ceilings & Walls
Popcorn ceilings are a specific texture that was very popular back in the 70s, 80s, and 90s in homes. Today, it's considered incredibly outdated and less than appealing. Many homeowners want to remove the texturized layers from their ceilings, but due to potential lead and asbestos in the materials, this can be incredibly dangerous to do on your own. At Platinum Painting of Richardson, our team is happy to do it for you and provide you with the best results! Just contact our office today to schedule a free estimate for popcorn removal in Richardson, TX.
Why Choose Us:
Based in Richardson
Insured
Satisfaction Guarantee
Serving All of North Texas
The Benefits of Popcorn Removal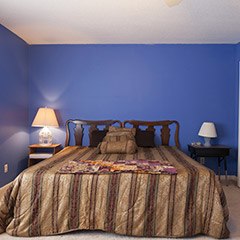 When you decide to remove your popcorn ceilings or walls, you'll be able to enjoy a number of advantages, including:
A more updated-looking and modernized home.
Prospective homebuyers won't be as deterred from your property.
A cleaner and healthier environment.
Easier to clean and dust.
Achieves better paint results.
Can potentially remove asbestos or lead from your home if it was built before 1977.
Popcorn Removal Steps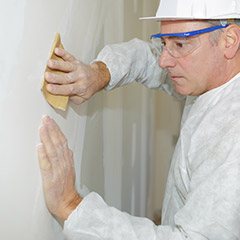 Removing popcorn texture from ceilings or walls can be a messy and time-consuming process, depending on how large your home is. We typically break the process down into five basic steps:
Prepare the Room – To prepare the work space, we'll remove any light switches, fixtures, and furniture from the room to make sure they don't get dirty or ruined. We'll also cover the floor.
Soak Popcorn Texture – Using a powerful water gun, we'll thoroughly soak the popcorn texture to soften it and make it easier to remove.
Remove Texture from Walls or Ceiling – We'll use a special scraping tool to remove the popcorn texture in large chunks.
Give the Surface a Smooth Finish – As soon as we reach the underlying layer of the wall or ceiling (called the substrate), we'll smooth it out by filling the area. If necessary, we may also prime or sand the surface.
Cleanup & Final Inspection – After the project is complete, we'll vacuum and clean up the room. We'll then ask you to do a final inspection to make sure that everything meets your standards.
What Happens Next?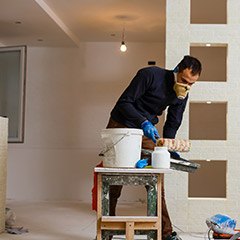 To make sure that your ceilings or walls look finished and match the rest of your room, we also offer interior painting. We can provide you with a free estimate and design guidance if you contact our office!