Exterior Painting – Richardson, TX
Boost Your Home's Curbside Appeal
Painting the outside of your home is a true art, because the results must be able to withstand years of being battered by rain, snow, hail, and direct sunlight. Our team at Platinum Painting of Richardson offers a satisfaction guarantee and provides trusted, superior results that you can count on to protect your home. To get a free in-home estimate and determine whether you choose us for the project, we welcome you to contact our office today. We proudly offer affordable pricing, 0% financing, and will make sure that you're happy with the product once we're finished with your project for exterior painting in Richardson, TX.
Why Choose Us:
Based in Richardson
Insured
Satisfaction Guarantee
Serving All of North Texas
What Can We Paint?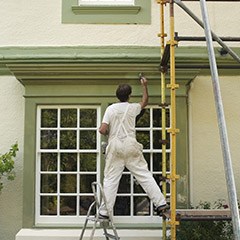 Our experienced team of professionals can provide you with exceptional exterior painting results and is able to work with a variety of different materials, architectural designs, and fixtures, including:
Brick
Wood
Stucco
Fascia/Eavestrough
Vinyl/Aluminum
Patios
Decks
Railings
Fence Staining
Carpentry
And much more!
No Detail is Too Little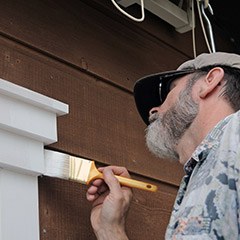 The key to achieving the ideal results is making sure that every detail of a project is accounted for. At Platinum Painting of Richardson, we'll consider the location of your home, what weather it will be exposed to, and any additional factors that will help us determine the ideal type of paint to use on your home. We'll also take into account trees, landscaping, shrubbery, and permanent fixtures to help you choose the best color for your home. Our team will think of every detail that will affect the project's results, that way, you won't have to!
The Steps of Exterior Painting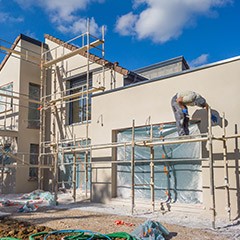 The process of painting the outside of a home can typically be broken down into five basic steps:
Preparation & Setup – We thoroughly power wash the outside of the home to remove any dirt and debris that could be trapped beneath the paint and ruin the results. Before we arrive, we ask that homeowners remove any outside plants, décor, or fixtures in the work space. We'll also ask that you turn off the sprinklers.
Priming – To make sure the paint lasts longer, we'll apply a high-quality primer to the outside of your home.
Painting – We'll apply the paint of your choice to the exterior of your home, achieving an even and uniform coating. Once it dries, it will be able to protect your home from the elements for years to come.
Cleanup – At the end of each day and every project, we make sure to clean up so no mess is left behind. We'll clear any trash up and make sure that the area is left just as tidy as when we arrived.
Final Inspection – After every job, we'll ask you to inspect your home to make sure it meets your expectations and that you're satisfied. If you notice anything that doesn't meet your standards, we'll immediately address it.
Dedicated Color Consultation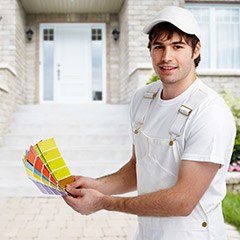 With hundreds of exterior colors to choose from, we want you to feel confident in your decision. That's why we offer color consultations, so you can get a second opinion from an expert who has painted hundreds of residential properties! You can also explore color options and see how the final product will look with the Paint Color Visualizer from Sherwin-Williams.